Campus & Community
Nationally known Syracuse native returns to hometown to motivate, inspire city youth
Darrell "Coach D" Andrews talked to more than 300 students from the five Syracuse City High Schools as part of GEAR UP Fridays that took place in July and August. Coach D spoke to the students about not letting life's challenges stop them from pursuing their dreams, taking responsibility for their choices, maintaining a positive attitude and finding their passion.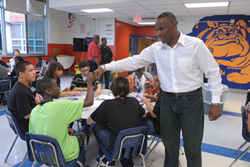 Andrews, a graduate of Fowler High School, is a nationally known motivational speaker who regularly appears on radio and television programs. He is also the author of numerous books including "How to Find Your Passion and Make a Living at It"(Passion Pub, 2002).
Federal GEAR UP Fridays were part of a series of summer workshops targeting at-risk students from grades 7–12. The program supports and assists them in realizing the dream of going to college.
GEAR UP is a collaborative effort between Syracuse University and the Syracuse City School District, designed to increase the graduation rate and college attendance of students from 18 schools in Syracuse. Syracuse Gear Up is also aligned with community agencies and business partnerships to offer programming and mentoring.
The federal GEAR UP program is administered at University College of Syracuse University. For more information, contact Julie O'Connor, assistant director of administration and operations for federal GEAR UP at 443-3262 or jfoconno@syr.edu.