Health & Society
Marion Wilson appointed director of community initiatives in the visual arts
Marion Wilson has been appointed director of community initiatives in the visual arts in the School of Education at Syracuse University. In this role, she will continue her work with the Partnership for Better for Education (PBE) and Say Yes to Education to infuse the Syracuse City School District curriculum with arts-based learning activities that emphasize literacy, technology and sustainability.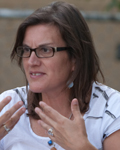 "Marion brings to the School of Education a wealth of experience and creativity in working with artists, writers, architects and young people," says School of Education Dean Douglas Biklen. "Her role as director of community initiatives in the visual arts expands the School of Education's reach into urban school reform and community-based arts programming."
Wilson devised an interdisciplinary curriculum called "Social Sculpture" and has adapted the original principles of social sculpture coined by Joseph Beuys into a model for higher education classroom teaching. She also conceptualized and directed the construction of the Mobile Literacy Arts Bus (MLAB), one of the premiere collaborative projects of the Partnership for Better Education.
As a result of her belief in the revitalization of urban spaces through the arts and the success of MLAB, Wilson, along with a design team of art, architecture and design students at SU, have embarked on a new adventure in social sculpture, the 601 Tully project—the renovation of a West-side property into a sustainable community arts center. The project is the capstone of Wilson's cross listed art/architecture course, "Social Sculpture: 601 Tully." It will be a storefront for arts, writing, publishing and emerging entrepreneurialism built on the collaborative energies of Fowler High School, Blodgett School, SU and the SUNY College of Environmental Science and Forestry. The project has received supporting grants from Imagining America and Enitiative (the Syracuse Campus-Community Entrepreneurship Initiative from the Kaufman Foundation).
Wilson lives and works in Syracuse, and maintains her own art studio and art practice in New York City. She has had exhibitions or completed public commissions for New Museum of Contemporary Art, New York; KK Art Projects, New Orleans; Dorsky Gallery, New York; and Shroeder Romero Gallery, Exit Art, Cheryl Pelavin Fine Arts and Sculpture Center, New York; in addition to Hallwalls Contemporary Arts Center in Buffalo; SPACES in Cleveland; and SCOPE Miami/Art Basel in Miami.
Wilson received a bachelor's degree from Wesleyan University, a master's degree in pedagogical studies from Columbia University, and an M.F.A. from the University of Cincinnati.