Campus & Community
Chancellor Cantor authors magazine cover story on higher education's role in the 'Remaking of America'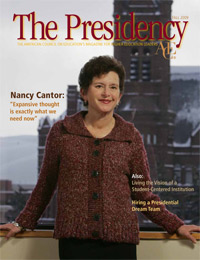 Chancellor and President Nancy Cantor appears on the cover of, and authored the lead story for, the Fall 2009 issue of The Presidency, the signature publication of the American Council on Education (ACE). Her article—"A New Morrill Act: Higher Education Anchors the 'Remaking of America'"—describes the important role played by postsecondary institutions as community anchors that profoundly affect their home areas' prospects and prosperity.
 The article is based upon remarks Chancellor Cantor delivered at ACE's 2009 Annual Meeting. It may be viewed online (in PDF form) at http://sunews.syr.edu/PresidencyFallIssue09AsPrinted.pdf.
The Presidency is written for and by college and university presidents and chancellors. Three times each year, The Presidency spotlights the most dynamic personalities in higher education, offering them a forum to present their views on the critical issues affecting campus leaders.
ACE is the only higher education organization that represents presidents and chancellors of all types of U.S. accredited, degree-granting institutions: community colleges and four-year institutions, private and public universities, and nonprofit and for-profit colleges. Since 1918, ACE has provided leadership and a unified voice on key higher education issues. Through advocacy, research and innovative programs, ACE represents the interests of more than 1,800 campus executives, as well as the leaders of higher education-related associations and organizations. ACE speaks as higher education's voice in matters of public policy in Washington, D.C., and throughout the nation, and provides vital programs, information and a forum for dialogue on key issues.