Campus & Community
Syracuse University to host Vice President Biden, Education Secretary Duncan, Treasury Secretary Geithner for Wednesday forum on college access and affordability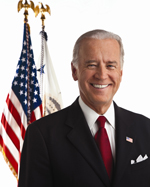 Vice President of the United States Joseph R. Biden Jr. LAW '68 will visit Syracuse University on Wednesday, Sept. 9, to chair the next meeting of the White House Task Force on Middle Class Families. The Vice President will be joined by Secretary of Treasury Timothy Geithner and Secretary of Education Arne Duncan, Chancellor Nancy Cantor and other leading higher education experts for a discussion on college access and affordability.
Syracuse was chosen to host the meeting because of the University's commitment to the critical issues of college awareness, access and affordability, and the Syracuse community's collective work on the Syracuse Say Yes to Education initiative.
The event will begin at 10:30 a.m. in Goldstein Auditorium in the Hildegarde and J. Myer Schine Student Center.
A limited number of general admission tickets will be available to SU and SUNY College of Environmental Science and Forestry students, faculty and staff on Tuesday, Sept. 8, from noon to 5 p.m. at the Schine Box Office. Tickets are first-come/first-served and limited to one per person. A valid SU or SUNY-ESF I.D. must be presented in order to obtain a ticket.
Those attending Wednesday's event are asked to be present and seated by 9:45 a.m. All guests will be subject to security screenings, and backpacks and large bags are prohibited.
"We are honored and excited to have this amazing opportunity to host our dear law school alumnus Vice President Joe Biden, and Secretaries Duncan and Geithner on our campus for a discussion of the important issues of college awareness, affordability and access," says Chancellor Cantor. "All of Central New York should be proud that this opportunity was made possible because we are a national leader in addressing these critical issues right here in Syracuse. The University's and community's work on the Syracuse Say Yes to Education initiative is working to change the lives of 21,000 students and their families in every school in the district."
"I am delighted that our College of Law graduate, Vice President Biden, is coming to Syracuse University with Secretaries Duncan and Geithner to have a conversation about the critical issues of education and the economy particularly as it effects those who are struggling to keep a foothold in the American Dream of economic security and educational opportunity for their families," says SU College of Law Dean Hannah R. Arterian. "The Vice President demonstrates an understanding of the importance of these domestic issues to the broader issues of peace and security in the world, and it will be an honor to have him leading this important group of officials to our campus."
About Syracuse Say Yes to Education
Syracuse University, Say Yes to Education Inc. (Say Yes) and the Syracuse City School District (SCSD) have joined forces to develop and launch the unprecedented Syracuse Say Yes to Education Program.
For more than 20 years, Say Yes has worked to demonstrate that the persistent and well-documented "achievement gap" between urban and suburban kids is not an accurate measure of students' abilities or potential but is an "opportunity" or "access" gap. Say Yes has successfully bridged this gap at the level of a single school by implementing comprehensive and integrated support systems that address four major types of obstacles to post-secondary access for low-income students: academic, social-emotional, health and financial. Now the Syracuse Say Yes to Education program is bringing this success to an entire school district—the first program of this scale in the nation.
At the heart of this pioneering program are two core components: 1) a K-12 comprehensive support program aligned with the key barriers to college access, and 2) the promise of free tuition, fees and books for all participants. Any SCSD student is eligible to participate in the Say Yes program as long as he/she completes high school and meets college entrance requirements. A partnership of 23 visionary private colleges and universities in the Northeast has committed its support to Syracuse Say Yes with the offer of free college tuition. Graduating high school students may attend these institutions, along with any SUNY or CUNY college or university.