Arts & Culture
SU College of Visual and Performing Arts' XL Projects kicks off new exhibition season Sept. 2 with 'Graduate Painting'
"Graduate Painting," a collection of work by graduate painting students in SU's College of Visual and Performing Arts (VPA), will kick off a new season of exhibitions at XL Projects, the college's venue at 307-313 S. Clinton St., Syracuse. The show, which runs Sept. 2-27, is free and open to the public. A reception will be held Thursday, Sept. 17, from 6-8 p.m. as part of Syracuse's citywide art open Third Thursday (Th3). Regular exhibition hours are Wednesday-Sunday, 11:30 a.m.-6 p.m.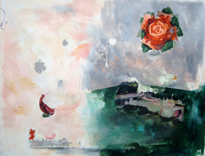 The exhibition will feature large paintings and installations by first-year graduate students Rachel Van Pelt, Jave Yoshimoto and Annie Ryerson; second-year graduate students Joey Reyes, Daina Mattis, Alex Schmitz and Mike Berlant; and third-year graduate students Jessica Sharpe, Gwendolyn Reyes and Jon Lee.
"Painting today is as relevant as ever," says Stephen Zaima, professor of painting and coordinator of VPA's painting program. "The 'blank canvas' is both a hurdle and a 'tabula rasa'-perhaps not a blank slate, but a clean slate. If an artist can avoid becoming overly self-conscious about the medium or practice, the possibilities for meaningful expression multiply exponentially.
"The long history of painting continues here at SU. We have 10 M.F.A. candidates who hail from many areas of the country, with styles as diverse as their geographic origins. The dichotomies between traditional and contemporary or figurative and non-representational have imploded and what remains is strong, self-motivated, individual work. These young artists represent the global possibilities of what painting can be, whether it embraces tradition or not, whether it be interdisciplinary or multidisciplinary."
For more information, contact Andrew Havenhand, the college's program exhibitions coordinator, at 474-1217 or adhavenh@syr.edu.