Prince Sultan bin Salman of Saudi Arabia receives Chancellor's Medal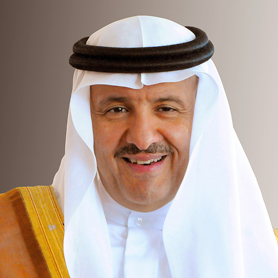 His Royal Highness Prince Sultan bin Salman, president of the Saudi Commission for Tourism and Antiquities (SCTA), chairman of the board of trustees of the Prince Salman Center for Disabilities Research in Riyadh and the first Arab astronaut, was awarded Syracuse University's prestigious Chancellor's Medal for Outstanding Achievement during a ceremony on Friday, Nov. 16, in the foyer at the Maxwell School of Citizenship and Public Affairs.
The Chancellor's Medal is given to individuals in honor of their expertise and contributions to their community, the University and the world. Prince Sultan is the son of Crown Prince Salman bin AbdulAziz al-Saud, Saudi Minister of Defense and next in line to the throne. Sultan completed his elementary and secondary education in Riyadh, Saudi Arabia. He studied at the University of Denver and received his master of social science degree from the Maxwell School in 1999.
Previous honorees include U.S. Vice President Joseph R. Biden Jr.; "The Syracuse Eight"; renowned acting and activist couple Ruby Dee and the late Ossie Davis; Nobel Peace Prize recipient Shirin Ebadi; the late U.S. Sen. Daniel Patrick Moynihan; the late, eminent American composer Aaron Copland; The New Yorker magazine columnist and best-selling author Kenneth Auletta; and former U.S. Secretary of Health and Human Services Donna Shalala.
Sultan was recognized for:
• his lead role—as president of the Saudi Commission for Tourism and Antiquities—in fostering a better understanding of and appreciation for Saudi Arabia, its people and its rich cultural heritage;
• his key role in helping launch a collaborative partnership between SU and Princess Nora Bint Abdul Rahman University, the first all-female university in Riyadh and one of the first and largest women's universities in the Middle East;
• his long-time deep dedication to scientific exploration and knowledge. In 1985, he became the first Arab and Muslim in space as a member of the international crew of the Space Shuttle Discovery; and
• his commitment to promoting services and research for those with disabilities—which matches SU's own historical strengths as a leader in disability rights.
"Prince Sultan's wide-ranging accomplishments stand in the finest SU tradition of breaking down barriers," says SU Chancellor and President Nancy Cantor. "Whether setting records as an astronaut or advocating for opportunity for women and people with disabilities, he courageously has blazed new trails in the Arab world."
Sultan started his career as a researcher in the Department of International Communications at the Ministry of Information in Saudi Arabia in 1982. He served as deputy director of the Saudi Media Committee for the Saudi athletes participating in the 1984 Summer Olympics in Los Angeles. Later that year, the Department of Advertising was created at the Ministry of Information, and he was appointed its acting director.
Sultan holds the record for being the youngest person to fly on the Space Shuttle, at the age of 28. He is also the first member of a royal family in space and the first Muslim in space. He began to work as an officer in the Royal Saudi Air Force in 1985. That same year, he flew as a payload specialist on STS-51-G Discovery. As one of a seven-member international crew, which also included American and French astronauts, he represented the Arab Satellite Communications Organization (ARABSAT) in deploying their satellite ARABSAT-1B. Later, he assisted the establishment of the Association of Space Explorers, an international organization comprising all astronauts and cosmonauts who have been in space, and served on its board of directors for several years. He retired in 1996 with the rank of colonel.
As president of the Saudi Commission for Tourism and Antiquities since 2000, Sultan has charted new pathways toward understanding and appreciation for the people, cultures and history of his homeland. He currently chairs the Disabled Children's Association and is the co-founder and chair of the Prince Salman Center for Disabilities Research, where he's forged vital networks of support, advocacy and research to address the myriad needs of those living with disabilities.