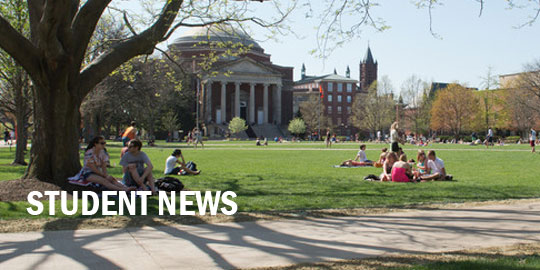 Go Orange!
Syracuse University is proud to highlight the outstanding
academic achievements and civic engagements of students
who commit themselves to getting the most out of their college
education. Through the Student Honor Roll, we honor these
accomplishments and commend the students who drive
the University's bold idea of Scholarship in Action.
Dean's List

News to your hometown newspaper
The Office of News Services distributes student news releases to hometown newspapers across the country. To reach us about a particular newspaper or student, please call (315) 443-3784, or email sunews@syr.edu.

Spread the good news through social media!
We invite you to share this news through your social networking pages, such as Facebook and Twitter, by clicking on the icon located at the bottom of each news page. An easy way to share the news with family and friends!