Community-Campus Musical Performance and Dialogue Will Address Issues of Syracuse Seniors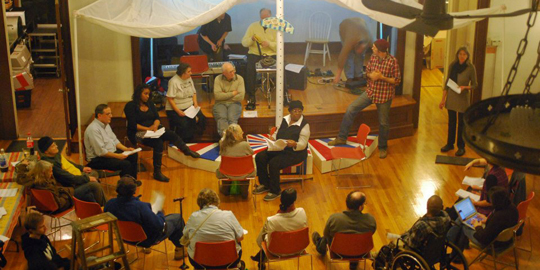 The D.R.E.A.M. Freedom Revival (DFR), a Syracuse-based grassroots theater company that uses music and theater to spark conversations about freedom and democracy, will perform with senior citizens on Saturday, Feb. 16, at 3 p.m. at Grace Episcopal Church (819 Madison Ave.). The performance, "Snow on the Rooftop, Fire in the Furnace," highlights the vitality, contributions, rights and dignity of older people in the community. It will tell the story of the city's decision to defund and abruptly close the 36-year-old downtown Ida Benderson Senior Center and the isolation that many seniors subsequently faced. Sponsored by Imagining America: Artists and Scholars in Public Life, the New York Council for the Humanities and the Gifford Foundation, the performance will be followed by a meal and conversation, free and open to the public.
"Seniors have been less visible on downtown streets since the center closed," says Denise Nepveux, who is organizing the collaboration between the DFR and the Ida Benderson Seniors Action Group. "The center provided a home base where older people of all incomes and backgrounds could socialize and from which they could participate in city life. It's a loss to Syracuse. But these seniors are still here, and wish to be heard—so much that they are willing to perform! They feel that downtown is for everyone. We welcome you to join in song and conversation about how to become a more senior-friendly Syracuse."
Since 1975, the Ida Benderson Senior Center at 205 S. Salina St. was a busy downtown drop-in recreation spot for seniors, serving 60-80 meals every day. It was closed in September 2011, despite numerous community groups marching in the streets with seniors to protest.
The Ida Benderson Seniors Action Group, comprised of seniors and allies, formed after the center closed. By meeting weekly and through this performance, they hope to keep their community together, advocate for a new senior center downtown and raise awareness about the issues older people face.
The DFR is premised as a secular tent revival for freedom and democracy. In this performance, original theatrical scenes and original music—including a blues opera entitled the "Ida Benderson Blues"—will be performed jointly by the 15-person DFR ensemble (part church choir, part traveling vaudeville troupe) and members of the Ida Benderson Seniors Action Group.
"It feels great to use my training as an artist and a scholar to be part of a community-driven project that builds artistic platforms where others can express and celebrate the things that matter to them. To me, this project exemplifies the many ways colleges and universities can play a meaningful role in democratic life," says Kevin Bott, founder of the DFR and associate director of Imagining America. "The whole DFR experience has been one of discovery—trying to find the best way to serve as an amplifier for the voices of regular Syracusans and Central New Yorkers. The Benderson Revival is the first of a yearlong series that will use a very engaging and unique kind of performance to invite our neighbors into meaningful dialogue about the issues that are affecting their lives. As we say in the Revival, 'If you come for the celebration, we're going to keep you for the contemplation!'"