16 Upperclassmen Selected to Prestigious Leadership Program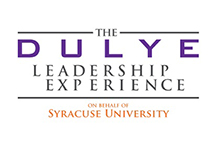 Sixteen Syracuse University juniors and seniors have earned full scholarships to the prestigious 2016 Dulye Leadership Experience (DLE)—an annual professional development program that prepares college students to confidently transition into the workplace.
Founded by alumna Linda Dulye '77, the highly selective DLE, now in its ninth year, promotes students' self-discovery and critical skills building for finding a career that mutually benefits themselves and their employers.
This year's program takes place in the Berkshires of Western Massachusetts on April 1-3, with a distinguished faculty of professionals from diverse backgrounds and industries who personally coach students on communication, networking and other key leadership skills. Each faculty member volunteers more than 50 hours of his/her personal time to create a life-changing, learning experience.
Since the program's start in 2008, over 100 SU students have participated in the program, with most advancing to a job or internship within three months of attending.
Dulye, an internationally recognized leader in workplace communication and engagement whose firm Dulye & Co. pioneered the Spectator-Free Workplace, is passionate about helping students reach their full potential as they prepare for the overwhelming process of graduating, getting a professional job and pursuing their careers.
"Everything about the program—its' format, content, logistics, faculty and sessions—are designed to profoundly change perspectives and grow competencies for the long run," explains Dulye. "Students learn how to be their best and convey their talent in ways that differentiate themselves from the enormous competition that's out there."
Yvenique Lovinsky '16, a graduate of the 2015 DLE program, says the DLE impacted every aspect of her professional career. "The Dulye Leadership Experience taught me that life is not a spectator sport," she explains.
"I was able to turn a summer internship into a full-time offer with Macy's, attain several campus leadership positions and earn awards with the skillset that I gained from the DLE. Not only did this experience provide me with the tools needed for professional development, it allowed me to identify my strengths and weaknesses to grow personally," Lovinsky says.
A record-breaking 186 applications were received for the 2016 program. After a highly selective review process and live interview sessions, these students earned a coveted place in the DLE Class of 2016:
Alexandria Aruck '16, College of Arts and Sciences, Biology
Matthew Barbaccia '16, College of Engineering and Computer Science, Bioengineering
Marcus Coleman '16, Whitman School, Supply Chain Management and Finance
Paulina Colon '17, Falk College, Social Work
Nicole Corcoran '16, College of Visual and Performing Arts, Communications Design
John Crampton '17, Whitman School, Supply Chain Management and Entrepreneurship
Emily Dang '17, School of Information Studies, Information Management and Technology
Frank Fuentes Jr. '16, School of Architecture, Architecture
Uche Imoka '16, College of Visual and Performing Arts, Communication and Rhetorical Studies
Alexandra Keator '16, Newhouse School, Public Relations
Philip Kramer '17, College of Arts and Sciences, Economics
Emily Lindberg '17, College of Engineering and Computer Science, Mechanical Engineering
Jesse Noll '16, Newhouse School, Advertising
Laura Singer '16, College of Arts and Sciences, Political Science
Catherine Stith '16, College of Arts and Sciences, Psychology and Neuroscience
Katey Wilson '17, College of Engineering and Computer Science, Bioengineering
For more information on the Dulye Leadership Experience, visit dle.dulye.com.